Daniel Smith jailed for raping 84-year-old woman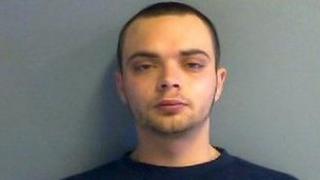 A man who admitted raping an 84-year-old woman with dementia after breaking into her home in Oxford has been jailed.
Daniel Smith attacked the woman who has "mental and physical frailties" last December.
The 23-year-old was sentenced to 15 years for one count of rape - the last four years will be served on licence.
Smith, of Haddon, Great Holm, Milton Keynes, was also given a four-year concurrent sentence for burglary.
He pleaded guilty to both charges on 18 February.
'Violent and despicable'
Smith, who has 30 previous convictions, was also ordered to sign the sex offenders' register for life.
Sentencing Smith at Oxford Crown Court on Monday, Judge Patrick Eccles described the rape, which happened on 1 December last year, as "a violent and despicable" crime.
Smith entered the woman's home by an open window and then left through the front door, where he was seen by the victim's daughter, the court was told.
He also stole the woman's mobile phone.
'Extreme vulnerability'
The court heard the woman is now in a care home.
In mitigation, Smith said he had no recollection of the crime as he was under the influence of drugs and was said to be "horrified" by what happened.
After the sentencing, investigating officer Insp John Linsdell said: "Smith committed an unimaginable crime in which an elderly victim was attacked in her own home.
"The matter is particularly grave due to her extreme vulnerability."
He added Smith's actions had had "an appalling effect on the victim and her family".
Mr Linsdell said he "welcomed" the length of the sentence as it reflected the "appalling nature" of the offences.