Gloucestershire A417 crash victims named by police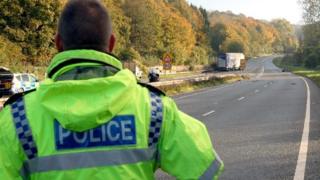 Three motorists killed within hours of each other on the A417 in Gloucestershire have been named.
Brian Burnham, 54, from Cheltenham died shortly after 03:00 GMT on Monday after his car collided head-on with a lorry at the foot of Crickley Hill.
Eight hours later Francis Verity, 91, from Purton and Valerie Fitzgerald, 84, of Marlborough, Wiltshire, were killed when their car collided with a lorry.
Both lorry drivers involved in the crashes were uninjured.
The road was shut for hours to allow police to investigate both collisions, that happened two miles (3km) apart.
The Transport Secretary has agreed to meet with local MPs in the "coming weeks" to discuss the road.
For two decades the government has been lobbied about improving the carriageway, in particular the multiple pinch-points where the dual carriageway becomes a single carriageway.
Gloucestershire County Council believes the Highways Agency, which maintains the road, has "dragged its heels for too long" over problems including congestion, air pollution and high accident rates.
The agency says it will continue to work with the authorities on options to improve traffic and environmental conditions in the area.
The A417 connects the M4 and the M5, between Gloucester and Swindon, and is used by more than 30,000 vehicles each day.