First Capital Connect train alarms 'would not activate'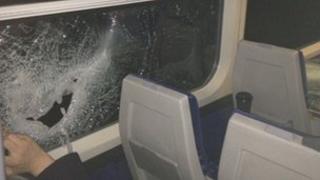 Train passengers were unable to activate emergency alarms when overhead cables crashed through carriage windows, an investigation has found.
The Rail Accident Investigation Branch (RAIB) said passengers had to apply an emergency door handle to stop the train at Littleport, Cambridgeshire in 2012.
It said First Capital Connect has since removed the alarm covers that had prevented passengers accessing them.
The alarms are mounted in the ceiling and have a pull-down handle.
When activated, they allow passengers to speak to the driver and automatically stop the train within five seconds.
The RAIB said each handle was covered by an opaque, perforated, soft plastic cover, which had instructions on how it should be removed.
Minor shock
At least two passengers on the King's Lynn to Kings Cross train tried to deploy the alarm but were unable to remove the cover to access the handle, the report added.
After several attempts they gave up and a passenger broke the cover on the emergency door release handle.
The door release handle stopped the train.
One passenger received treatment for minor cuts at the scene and two others suffered minor shock but did not require medical treatment, the report adds.
Testing showed a force equivalent to up to 11 kg was required to tear the perforations on the alarm covers.
First Capital Connect stated that the covers had been fitted to the class 365 fleet between 2009 and 2010, in an attempt to reduce non-emergency use.
It removed all covers by the end of September this year, the RAIB said.