WW2 Bible 'protected grandson in Afghanistan'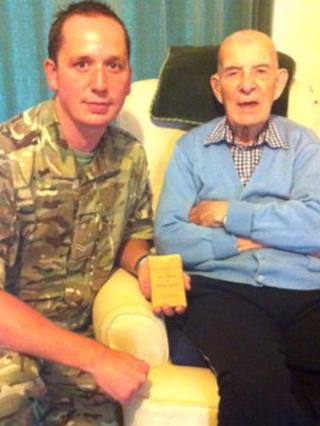 When a former RAF policeman heard his grandson was being sent on a second tour of Afghanistan, he gave him a gift in the hope it would keep him safe.
Alfred "Henry" Collins, 95, was issued with his military Bible in 1941 while serving as a corporal at RAF Bawdsey in Suffolk.
When he heard about his grandson's deployment, he urged him to take the Bible with him and keep it safe.
Cpl David Coles, 31, an Army policeman based in Colchester, accepted it as "a lucky charm" even though he is not religious himself.
Six months later, he returned it to Mr Collins at his Cambridge home, in time for the Bible to be used during a family memorial service.
'Treacherous country'
Cpl Coles's safe return, together with the Bible, has nothing to do with either luck or charm, according to Mr Collins.
"I do feel it has protected him," he says. "I survived the war, it helped me, and and I'm thankful to think it helped David."
Mr Collins served in both the UK and Norway during the war, and always carried the Bible, which contains the Gospel of St John and a hymn book.
"The Bible was important to me during the difficult war years and I knew it would be a comfort to David if he had it with him, and he could read it as he wished," he said.
"There's a lot of stress when you're away from home in uniform - especially for David in Afghanistan - a very treacherous country."
Cpl Coles, a member of 156 Provost Company, Military Police, said he was nervous about taking his grandfather's "treasured possession" on active service.
"His Bible is obviously something of massive importance [to him] and it's very, very old, so I needed some way to keep it safe.
"I kept it with me the entire time in an evidence bag, tucked up in my body armour beneath the Kevlar," he says.
"But Henry is the one with the strong faith and I knew it was important to him. To me it's more a lucky charm - I suppose I'd call it that."
Just two weeks before the end of his six-month tour in Afghanistan, Cpl Coles received the news of his grandmother's death.
Mr Collins and his wife Mary married in 1945 and were together for 68 years.
'My faith, my story'
"The Bible became all the more relevant then," Cpl Coles says.
"That was when one of my colleagues suggested I go along to his chapel in Camp Bastion where the padre blessed it, and wrote the RAF Police Collect [short prayer] inside."
The Bible will be used during a service to commemorate the life of his grandmother.
Since returning from Afghanistan, Mr Collins has decided he would like his grandson to keep the Bible.
Cpl Coles says he is happy to do so, although in future he plans to keep it safe by framing it rather than carrying it around in his kit bag.
Mr Collins, meanwhile, remains convinced that his Bible has seen separate generations of military policemen safely through armed conflicts and will continue to protect his grandson in the future.
"God has blessed and preserved David for a purpose yet to be seen, I believe.
"That's my faith, yes, and that is my story."