Metin Mustafa kidnap: Guilty verdicts for gang members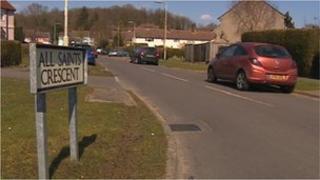 Two gang members who bundled a man into a van and demanded £20,000 for his release have been found guilty of kidnap and false imprisonment.
Metin Mustafa was abducted from his Farnborough home by Virginijus Suchodolskis and Giedrius Cerniauskas.
The pair were also convicted of blackmail, along with Suchodolskis's son, Kornelius.
Virginijus Suchodolskis, 38, and Cerniauskas, 31, will be sentenced on Monday at Winchester Crown Court.
Kornelius Suchodolskis, 18, of Cuddington Avenue, in Worcester Park, London, is due to be sentenced on 6 December.
Three other men, Dzeraldas Jacinskas, Domantas Karpas and Vladislavas Tebenkovas, who were tried in connection with the plot were cleared of all the charges against them.
Duct tape
The trial heard that Mr Mustafa had his hands shackled and legs tied with duct tape but he recognised one of his captors.
He then had a bag placed over his head and was kept as a prisoner in the back of a van at the Cave Industrial Estate, in Chesterton, Cambridgeshire.
Jurors were told police traced phone calls to his partner Karen Cook who was told the gang was "going to start hurting him" if the money was not raised.
Officers stopped a Mercedes car with Mr Mustafa in the back on 28 March, six days after he was taken.
Cerniauskas, of no fixed address, who was driving, was arrested at the scene while Virginijus Suchodolskis, of Tideslea Tower, Woolwich, was detained after a chase through gardens.
Prosecutor Stephen Parish said at one point Mr Mustafa "could hear water and thought he was going to be driven into a lake to be drowned".
He told the court Mr Mustafa had recognised Virginijus Suchodolskis from a meeting in a Cobham hotel in 2012 in connection with a proposed drugs deal.