Norfolk and Suffolk NHS in mental health redundancies 'U-turn'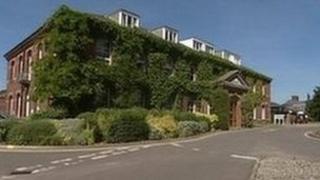 Mental health workers made redundant in Norfolk and Suffolk as part of £40m cost savings are to be invited to apply for jobs following a trust review.
The Norfolk and Suffolk NHS Foundation Trust decision affects 79 staff, 29 of whom are set to leave on 1 December.
Chief executive Andrew Hopkins said he could see the perceived "U-turn" may upset some people who had come to terms with "the fact they were going".
The trust announced in October about 400 jobs could be at risk.
The announcement, revealed on Friday night, follows new government investment and a review of a five-year saving strategy which means there are now roles to fill.
Mr Hopkins said: "We've been keeping the strategy under review and following that we're in a position to reduce the level of redundancies and keep more staff working in mental health services... that is good for the patient at the end of the day."
He said the trust had not taken the move to offer jobs "lightly".
"It looks like we've made a U-turn... but our service is built around our staff," he said.
"We're fully aware this is going to upset some people, but I think if we want to provide good quality mental health services we need to retain the best skills we can and that's why we're doing it."
'Difficult times'
The investment includes nearly £4m awarded to King's Lynn's Queen Elizabeth hospital to ease pressure on the A&E department and improve community and primary care.
Mr Hopkins told BBC Radio Norfolk "a number" of the 79 staff would be offered ongoing roles based on skills and experiences, but he accepted some staff "may have made other decisions".
Union leaders have welcomed the move.
Tracey Lambert, from healthcare union Unison, said: "We have had huge concerns and difficulties about the number of redundancies.
"They are facing very difficult times at that trust and we think they need all the staff to maintain and improve the services."
The trust said consultation with the staff members facing redundancy would begin on Monday and be completed before Christmas.