Sapper Richard Walker could not be saved from 'rogue' fire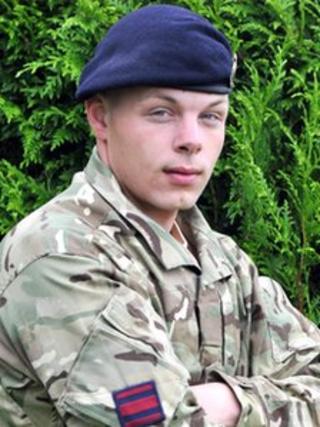 A soldier who was shot dead in a "rogue" Afghan army attack could probably not have been saved because a bullet hit an artery, an inquest heard.
Sapper Richard Walker from Leeds was not wearing body armour when he was shot on 7 January, in Helmand.
But the Ministry of Defence (MoD) said that even if the Royal Engineer had been wearing the protection, he was too badly injured to survive.
Coroner Derek Winter concluded the 23-year-old was unlawfully killed.
The inquest in Sunderland was told how the father of one was helping to remove the front gates of patrol base Hazrat, when he was shot through the shoulder.
The Royal Marines and Afghan National Army (ANA) soldiers shared the camp, but local forces were not allowed into the British side if they were armed.
As the men worked on the gates, a rogue Afghan soldier, came towards them and, when he was challenged, opened fire.
Six other soldiers were injured in the attack, which happened after nightfall, before the Afghan was eventually shot dead by Royal Marines.
'Probably fatal'
Capt Katrina Wright, of the Royal Military Police special investigations branch, said the base was due to be handed over to the ANA and was being reduced in size, so the front gates were being moved in.
She added that Sapper Walker was not wearing body armour - which weighed about 28lb - because of the heavy lifting the engineers were carrying out on the 440lb gates.
But Alan Hepper, an MoD expert engineer, said he would probably had died even if he had been wearing bullet-proof clothing because the round hit an artery.
He said the bullet would have been slowed down by soft armour around the shoulder, but not enough to stop it.
"It would probably still have been a fatal injury", Mr Hepper said.
Wing Cdr Lee Taylor, who carried out an official review of the incident, said: "This is one of those situations when the guys were working with their partners inside a base which was considered to be a safe location and one individual was not a friend.
"It is tragic and it really highlights the challenges that the local commanders have."
Sapper Walker's father, Richard Boddy, said: "Every effort should be made to protect every soldier, whether they are an officer, an engineer or a marine."
Mr Winter said he did not need to use his coroner's powers to make any recommendations to avoid future deaths.