River Kennet: Public asked for ideas to make it healthy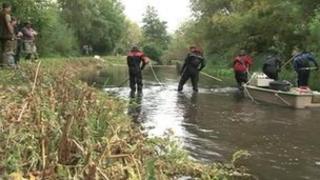 The River Kennet is not in good health, according to a local environment group.
The Action for River Kennet (Ark) group says there are low numbers of fish, as well as issues caused by pollution and invasive species.
The Environment Agency and the Ark group want people's views on what needs to be done to clean up the river and boost wildlife.
Ark director Charlotte Hitchmough said local knowledge could help restore fish stocks.
The poor health of the river was discovered after the Environment Agency carried out a survey in response to European Union legislation.
Spawning grounds
Ms Hitchmough said in some cases, weirs and dams on tributaries to the river could be reducing fish stocks.
"Fish need shallow water for spawning, they need deep water for food and rest.
"They need access to all the bits of rivers so if you've got weirs or dams, those are a problem.
"Some of those are on side streams, such as the River Lambourn and the River Enborne, and we don't know what's there."
Residents can give suggestions on how to clean up the river by going to a website set up by ARK.
The part of the river between Marlborough in Wiltshire and Woolhampton in Berkshire is designated a Site of Special Scientific Interest (SSSI).
The protection that this status affords the Kennet means that many endangered species of plants and animals can be found there.