Freedom of Scarborough grant and box sold for £18,750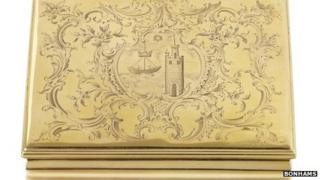 A gold box containing an original grant of the freedom of Scarborough has sold at auction for £18,750.
The box was presented in 1761 to Sir John Major, a wealthy merchant based in Bridlington who was also MP for Scarborough.
It is engraved with the arms of the town and contains the original vellum grant of the freedom of the borough.
Auctioneers Bonhams said the box, which is 4in (10cm) in length, was sold to a private UK buyer.
The box is also engraved on the base with a message that states it was given for Sir John's "proven zeal in extending and protecting the trade & commerce" of Scarborough.
British merchant Sir John Major, who lived from 1698 to 1782, was one of the country's leading iron traders.
He was elected as MP for Scarborough in 1761, the year he was presented with the box, and served in Parliament until his defeat in the 1768 election.