South Central Ambulance Service phone app to locate defibrillators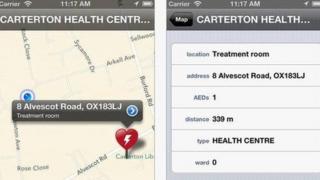 An ambulance trust has launched a mobile phone application which can locate portable defibrillators.
The South Central Ambulance Service (SCAS) app identifies more than 600 Automatic External Defibrillators (AEDs) in Berkshire, Buckinghamshire, Hampshire and Oxfordshire.
It is the first trust in the UK to provide such software.
Prof Charles Deakin, SCAS divisional medical director, said it "could save thousands of lives each year".
Defibrillators deliver an electric shock to the heart in cases of cardiac arrest.
Prof Deakin added: "Statistics show that in cases of sudden cardiac arrest outside hospital, only 1 in 10 people survive.
"However, when bystanders provide CPR and use AEDs before emergency medical services personnel arrive, as many as 4 in 10 victims survive."
He called the mobile app a "real lifesaver" and "incredibly simple to use - even a child could do it".
The app works by locating the nearest AED through its GPS, and also provides a list of other AEDs in the area.
It gives the building name and exact address, and informs users exactly where in the building it is located.