Plymouth bookies death raider Alan Levers had been drinking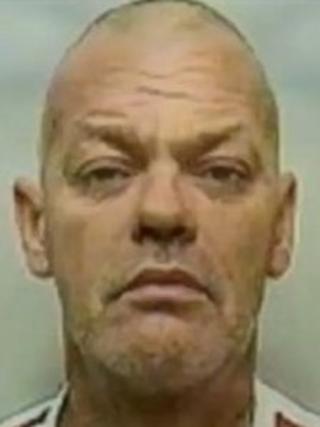 An armed robber who died as he was held on the ground by customers at a betting shop had been drinking heavily, an inquest has heard.
Career criminal Alan Levers, 50, was three and a half times over the alcohol limit for driving when he entered a Ladbrokes in Plymouth on 25 January.
By the time police arrived, masked Mr Levers had suffered a heart attack due to restricted breathing.
Plymouth coroner Ian Arrow recorded a narrative verdict.
The inquest at Plymouth City Council heard that Mr Levers, from the Honicknowle area of the city, raided the bookmakers in Crownhill wearing a gas mask and carrying an imitation pistol.
His partner, Julie Lidstone, said he had worked as a roofer, but because of the bad weather, he was short of money.
'Acted on instinct'
CCTV footage played to the inquest showed Mr Levers entering the betting shop with a hood up, covering the gas mask.
He walked past three customers before approaching the counter, pointing the fake 9mm pistol at the betting shop manager and demanding cash.
A man playing on a gaming machine was then seen to grab Mr Levers in an arm lock around his throat and wrestled him to the floor.
Two brothers went to help kick away the fake gun, before the police and paramedics arrived around 12 minutes later.
Robert - who asked not to give his full name publicly - told the inquest: "You never expect an armed robbery. I acted on instinct, jumped on him from behind and wrestled him to the floor.
"I was frantically trying to get the gun out of his hand. I was scared to let him up because I was concerned he might have some unconventional weapon like a knife or a screwdriver that could do as much damage."
Robert said that after the gun was kicked away, Mr Levers was motionless, but he presumed he had accepted defeat.
John Doyle, one of the brothers who helped restrain Mr Levers, said: "There was no malice or going over the top from the man assisting me in detaining the male.
"He, the same as me, was trying to prevent any serious harm."
While they held Mr Levers down, others raised the alarm, but by the time the police arrived Mr Levers was already unconscious.
'Ultimate price'
A post-mortem examination found that Levers was more than three and a half times the drink drive limit.
Forensic pathologist Dr Russell Delaney said Mr Levers had suffered a heart attack due to restricted breathing, and that the alcohol level "made a significant contribution" to the way in which he died.
He stressed that Mr Levers did not suffer any injuries in the restraint adding: "He was not violently assaulted."
Det Sgt Paul Otter, of Devon and Cornwall Police, told the inquest that no one involved in tackling Mr Levers would face prosecution.
Recording a narrative verdict, the coroner said Mr Levers died from chest compression and the restriction of the gas mask.
Mr Levers' family said after the inquest: "We are sorry for what the witnesses were put through at Ladbrokes.
"What happened should never have happened in the first place and Alan paid the ultimate price."
The Independent Police Complaints Commission was asked to investigate Devon and Cornwall Police's conduct but, following an assessment, decided it should be a "local investigation".