South West Coast Path repairs 'secure future'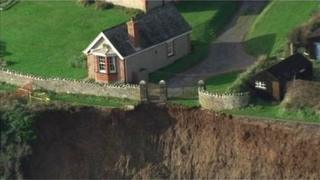 Repairs and diversions to the South West Coast Path - after more than 30 landslips and falls - have secured its future, the trail's association has said.
Last winter, the route was affected by an "unprecedented" number of falls.
In August, local authorities said they had allocated £1.45m for the repairs.
The South West Coast Path Association said adverse weather could cause more slips but it hoped "vulnerable" sections had already fallen.
'Impressive cliff fall'
Steve Church, from the association, said because of the severity of some falls permanent diversions had been put in place, such as near Looe in Cornwall and near Beer in Devon.
Other areas have a "slight inland diversion", such as around a property or private land.
Mr Church said in October there had been an "impressive cliff fall" near Portreath in Cornwall where a permanent inland path diversion had also been created.
He said: "We're not back to where we were last year, but we do have a path for the future.
"If we get another winter like last year, it's possible it could happen again.
"Some of the falls really came out of the blue, for example in parts of Devon and Cornwall where we hadn't had falls before which were quite unexpected.
"We're hoping the most vulnerable places fell last year," he added.
The South West Coast Path Association said research it commissioned estimated the direct spend attributable to visitors to the coast path in 2011 was more than £380m.
The 630-mile (1,000km) path runs from Minehead in Somerset to Poole Harbour in Dorset.