Murder victim Bijan Ebrahimi endured abuse and threats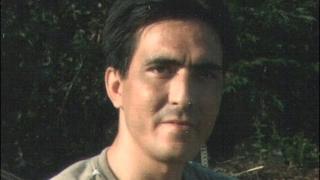 Bijan Ebrahimi was beaten to death and his body set alight.
His killer, Lee James, believed his victim was a paedophile because he had been seen taking pictures around the Bristol estate where he lived.
But police say there was no evidence for such an accusation.
Mr Ebrahimi's murder was the culmination of a series of threats and abuse directed at him on the estate over several years.
Batook Pandya, director of the charity, Stand Against Racism and Inequality (Sari), has revealed that between 2008 and 2011 Mr Ebrahimi had complained to police 14 times.
The issues ranged from "verbal racial abuse" to "issues with his neighbours", he said.
Mr Ebrahimi first arrived on Sari's doorstep in 2006 after being assaulted on several occasions in a shared house for the homeless in Bristol.
"At this address he was assaulted quite badly," said Mr Pandya.
"He had to jump out of the window because somebody broke into his room. He broke his ankle then hot water was thrown on to his chest and on his feet.
"Once he was also hit by the other people sharing this house - and he was hospitalised."
Despite being moved to another address, Mr Ebrahimi continued to suffer violence and threats and was eventually moved by Bristol City Council to his final home in Capgrave Crescent.
"Every incident that took place, Bijan reported it to the police," said Mr Pandya.
"A lot of times victims are found to be a nuisance because they keep on reporting incidents and when somebody like Bijan keeps on reporting it to the police, sometimes naturally it becomes a nuisance.
"But if they [the victims] don't report it then police will say 'sorry - these incidents were not reported to us'."
Described as a "very quiet, shy man" who kept himself to himself, Mr Ebrahimi's family said his pride and joy were his flowers and his cat.
"He had a brilliant floral display outside his maisonette. It was the best one around," said a neighbour, who did not want to give his name.
"He was always out there, watering his flowers, pots and hanging baskets."
It is thought Mr Ebrahimi had been taking pictures in an attempt to identify whoever was responsible for the abuse and threats.
Last July, just days before his death, a mob which included James and Steven Norley, surrounded his council maisonette and started chanting abuse.
'Collective failing'
Norley would later admit his part in dousing Mr Ebrahimi's body in white spirit and setting it alight.
"There was a crowd of 10 to 15 people out there and a police officer. James was shouting paedophile in the direction of the block, my partner also heard the words 'I'm going to kill you'," the neighbour said.
"James was clearly very angry - he obviously wanted to get at someone in that block."
"It was hostile. It was raw and rabid.
"The police should have been more on the case and kept him in a safe house or something until things had calmed down.
"They didn't seem to understand the strength of feeling round here at all."
Following Mr Ebrahimi's murder three police officers were suspended pending the results of an investigation by the Independent Police Complaints Commission (IPCC) into how the force dealt with his case.
Bristol City Council, which housed Mr Ebrahimi, has also launched its own case review which is due to be completed before Christmas.
"If I had to put the blame I would put the blame on the police as the agency that failed the most," said Mr Pandya.
"But I think the responsibility was for everybody - it was a collective failing."