Pub pregnancy test plea to halt FASD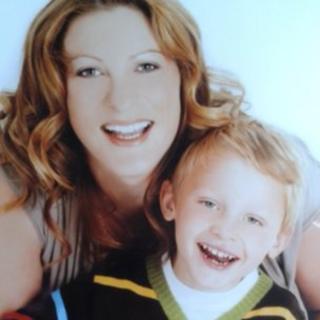 Mothers-to-be are bombarded with advice during pregnancy, but when it comes to alcohol the NHS message is clear: avoid it. Can putting pregnancy test kit machines in pubs go a step further in getting the message across?
Looking at the photo of this smiling mother and child, one could be forgiven for thinking they are the picture of health.
But when this picture was taken of Samantha Marchant and her son Stanley four years ago, she had only recently given up alcohol - a substance she had been abusing since the age of nine.
And as a result of her binges, Stanley, now nine, has been irreversibly brain damaged.
Ms Marchant, of Upton, in Slough, believes low self-esteem led her into the spiral of addiction.
But she was able to hide it, taking care of her appearance and holding down a trainee nurse job.
By the time she found out she was three months pregnant, she was bingeing on four pints of lager and half a bottle of brandy in a session.
'Bed with bottles'
Ms Marchant, now 40, says: "I know people think an alcoholic addict is a park bench tramp, but this is not the case.
"I'd split from my partner and was living with my mum so I would go to bed early with bottles."
Ms Marchant told her midwife she was drinking and was referred to alcohol support services.
She was often able to abstain for weeks. But by that time, the damage was already done.
The birth was natural and Stanley was not particularly small - 6lb 1oz (2.7kg). But Samantha was so frightened of losing him that she quit drinking when he was a baby after getting professional help.
Stanley was diagnosed with Foetal Alcohol Spectrum Disorder (FASD) - basically brain damage caused by drinking in pregnancy.
He attends a special school because he has trouble concentrating and can be aggressive.
His physical signs are subtle - slightly widely-spaced eyes and a thin nose bridge.
"He was a stunning baby but the behavioural signs were there," Ms Marchant explains.
"He gets very anxious, does not have much empathy and cannot cope with bright lights and loud noise.
"I am filled with self hatred for what I've done to Stanley - when you stop drinking you have to deal with mental pain," she adds.
Ms Marchant got in touch with the FASD Network which offers support to carers and adults with the condition. It has 250 members nationwide.
'Mental pain'
The network was set up by Maria Catterick of Stockton, who has fostered 26 children single-handedly over nine years.
The 43-year-old noticed that many of the children had behavioural problems linked to their mothers drinking in pregnancies, but that getting a diagnosis and help was difficult.
She decided to study FASD and recently completed a masters in Managing Clinical Practice and Applied Social Sciences from Durham University.
Earlier this year she met Prime Minister David Cameron to receive a Big Society Award for her work.
She also travelled to Alberta, Canada, to present her research to an international conference on FASD.
During the conference she heard about pregnancy kits being put in pubs in Canada to try and prevent binge drinking and plans to trial the initiative in the North East in 2014.
In the UK, the NHS advice is to abstain from drinking while pregnant, but figures suggest 40% of women do not know they are pregnant in the first three months - the critical time when the brain and organs are developing, says Ms Catterick.
They are also told drinking one or two units of alcohol a week is safe, but many do not know that even one or two sessions of drinking in pregnancy can cause damage.
'Russian roulette'
Ms Catterick is due to meet the prime minister again in the New Year to discuss her plans.
She adds: "FASD is complex - one expectant mother could drink the same amount of alcohol as another, but her child could be damaged while the other foetus is unharmed.
"A whole host of factors are believed to play a part including genetics and diet - it is Russian roulette."
She added: "I am in the process of pricing up pregnancy kit machine and looking at suppliers and it is hoped that by the summer they will be trialled.
"If a woman takes a pregnancy test before a big night out then it may reveal an unplanned pregnancy and could prevent a baby being exposed to damaging levels of alcohol."
FASD expert Shonag Mckenzie, lead obstetrician for the Northumbria Healthcare Trust, says NHS officials are "not about scaremongering".
"If you are drinking and a pregnancy is unplanned the chances are your baby will be fine," she says.
"But it has been proven that even moderate drinking can damage the wiring of a baby's brain.
"If you do not drink you cannot do any harm."