Police commissioner accused of implying domestic abuse is women's issue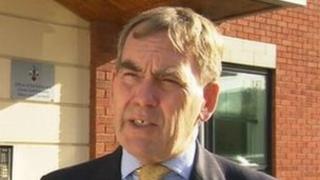 Devon and Cornwall's police commissioner has been accused of implying domestic violence is mainly a women's issue.
At a conference on domestic abuse in Cornwall on Wednesday, Tony Hogg reportedly said: "At an event like this, it's bound to be mostly ladies".
Councillor Hanna Toms said it resulted in groans and some people walking out.
Mr Hogg said dealing with domestic violence was "very high on my agenda".
'Groan of disbelief'
Police and crime commissioner Mr Hogg was the last speaker at the conference at the Headlands Hotel in Newquay.
Falmouth Penwerris Cornwall Councillor Hanna Toms tweeted that Mr Hogg offended "half the room in his opening sentence", resulting in "people leaving fast".
Speaking to BBC Cornwall, she said: "He started with, 'Good afternoon, ladies and gentlemen although, at an event like this, it's bound to be mostly ladies.'
"There was a groan of disbelief at our table and this rattled across the room. It hit the wrong note for so many people there."
She said several people - including herself - walked out, adding: "People may have been leaving anyway. It may have been a genuine mistake. But he's elected and should know these things, and that it does not just affect women.
"Men are also victims; children, and people in same sex relationships too."
Mr Hogg said he was "well aware of the issues that domestic abuse and sexual violence causes to all members of society" and he had been "pleased to be invited to close this event".
He added: "I am concerned that anyone in the audience could misconstrue my comments, but I know this is an incredibly sensitive area and it disappoints me that someone should leave the event feeling that way.
"The effects of domestic abuse are very high on my agenda and my office works very closely with partners to make sure that we commission the very best services for victims - be they male or female, adult or child - and to hold the police to account for how they deal with such crimes."
He invited Ms Toms to meet him to discuss the issue. She said she would accept the invitation.
Clarification: This story has been amended to correctly reflect Tony Hogg's response to the accusations.