Norfolk and Suffolk mental health patients 'offered Scottish beds'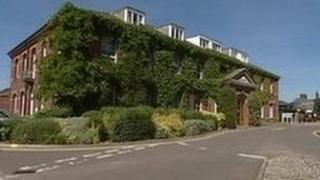 Patients needing mental health care have been offered beds hundreds of miles from their home, Unison says.
The union said some patients in Norfolk and Suffolk have been told the only beds available for them were in Somerset, Surrey and Scotland.
The Norfolk and Suffolk NHS Foundation Trust said it had transferred 50 patients to beds outside the area in recent years.
It said it was looking at "new ways to organise the service".
Emma Corlett, a mental health nurse and Unison official, said: "Our crisis teams meeting patients often cannot find a hospital bed locally but one may be available within the trust area.
"This may mean someone from King's Lynn being admitted at Great Yarmouth (65 miles/104km away).
"But recently some were told the nearest bed is in Somerset or Surrey and most recently in Glasgow."
'Reduced budgets'
The trust is set to cut 400 jobs to save £40m from its £220m budget over four years.
It has already made 41 staff redundant, 21 have left and 79 told to reapply for vacant jobs within the trust.
Interim chief executive Andrew Hopkins said more had to be done within the reduced budgets.
He said there were "enough beds to deal with needs" but admitted patients had been transferred to beds outside the trust area.
"The model of care is changing and people will experience a different service," he said. "We are looking at new ways to organise the service."
He said patients would receive more care in the community and the trust was also enlisting the help of the voluntary sector.
Health minister and North Norfolk MP Norman Lamb said: "It's a matter of finding ways to strip out costs to bring in extra money. It's not about cutting budgets, certainly not."
Aidan Thomas resigned as chief executive of the trust in June but the trust said it had been unable to find a "strong shortlist" of candidates and was delaying recruitment until next year.
See more on this story in Sunday Politics East on 24 November at 11:00 GMT on BBC One