Patient died after East Midlands Ambulance crew lost keys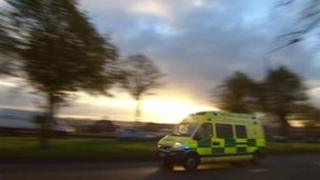 An 87-year-old man died after an East Midlands Ambulance Service crew lost their keys, an NHS report has revealed.
The crew was unable to transport the man, who suffered a cardiac arrest at a Derbyshire golf pavilion and died at the scene despite receiving treatment.
It is one of eight EMAS incidents mentioned in an NHS England report.
The report does not say whether losing the keys contributed to the man's death. EMAS has declined to comment but told NHS England it planned to improve.
Senior management from EMAS were summoned to an emergency risk summit with NHS England over concerns about poor response times to emergency calls, patient safety and eight serious incidents which happened in October.
The report does not go into any further detail about exactly where or when the incident involving the lost keys happened.
In another incident mentioned in the report, a Lincolnshire woman who fell down a flight of stairs was told by paramedics she had bruised her back.
'Unable to handle'
She was in so much pain she called 999 for a second time and, after being taken to hospital, it was found she had a double fracture to her lower spine.
EMAS also recorded one day when it was "unable to handle" its most serious 999 calls.
The organisation says its improvement plan includes looking at its poor response times to emergency calls, patient safety and the handling of complaints.
In May, EMAS was fined £3.5m because it missed response time targets for a third successive year.
A follow-up meeting with NHS England is due to be held in January - EMAS is holding a public board meeting on 25 November, where performance issues and its improvement plan will be discussed/acted upon.