Fire boat restored in Gloucester begins journey to London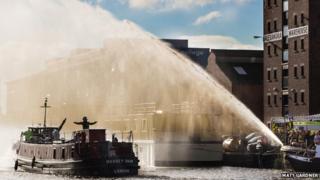 One of the "little ships" that rescued soldiers from Dunkirk in World War Two has begun its journey to London after being restored in Gloucester.
The Massey Shaw fireboat, built in 1934 for the London Fire Brigade, has undergone a £1m restoration.
The vessel is making its way to a permanent home on the Thames where it will be used as a living museum.
It is due to arrive in Portishead later after travelling down the Gloucester to Sharpness canal.
'Fit for today'
David Robins from T. Nielson and Company, which carried out the 18-month restoration at Gloucester Docks, said: "We've rebuilt her like-for-like to make her as close as possible to as she was when she was built.
"But she has a modern electrical system and a few discreet changes to make sure she is fit for today."
David Rogers, from the Massey Shaw Society, said: "The boat is a talisman for lots of families.
"In London we will invite a number of the families who have been involved with the vessel over the years to step aboard where their father or loved one was rescued or served aboard the boat."
Testing to see if the boat is seaworthy will take place on Sunday, after which time she will return to Avonmouth.
The craft, which was found abandoned in a London dockyard in the 1980s and was sunk in the 1990s, will then be transported by road and launched in the Thames next week.