Hundreds caught up in alert after explosion in Belfast centre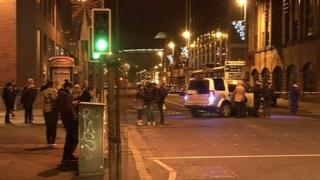 Hundreds of people have been caught up in a security alert following an explosion in Belfast city centre.
It happened after midnight as army bomb experts examined a car left at the entrance to an underground car park at Victoria Square shopping centre.
The car was damaged in the explosion, but not destroyed. There are no reports of injuries.
Commuters face traffic delays as police said the area around the alert would remain closed for a number of hours.
Belfast's Victoria Street, between May Street and Anne Street; Chichester Street between Oxford Street and Montgomery Street and Victoria Street car park remain closed to traffic at 07:00 GMT on Monday.
It is not yet known if the loud bang was caused by controlled explosion or if something detonated in the car.
The car had been left almost opposite the city's main police station and not far from Belfast's court complex.
People living close to the scene at Victoria Square had to leave their homes overnight, but have now been allowed to return.
Some of those caught up in the alert were moved from a nearby cinema.
Eddie Sheppard, a police officer from County Monaghan, was among 40 people who took shelter at the Ulster Hall overnight.
"We were just coming out and the alarms went off in the shopping centre, so we were more or less told by security staff to vacate or leave the area.
"Our car is parked underground and we are told we can't get out until the morning," he said.
"We've to get back to work in the morning, so it is out of the way a wee bit, but sure what can be done about it, the police are doing their best."
BBC NI reporter Conor MacAuley said police told people at the scene that the bang was not a controlled explosion.
He said that while the car had not exploded, it appeared to have been damaged, with the rear windscreen broken and a door blown open.
The car, which was located at street level at the top of a ramp to an underground car park, was believed to have been left there at about 21:30 GMT.
BBC NI reporter Rick Faragher, who lives in the Victoria Square apartments, was among those who had to leave their home.
He said at about 22:00 GMT police told him there had been a suspect car and he could not go back inside.
"I had my coat on, my phone with me, but the lights were still on in my flat, they told us to wait outside. They said they were not sure how long it could last for," he said.
"People were confused; they were not quite sure what was going on.
"There was a tremendous sense of frustration, it was particularly cold last night and there was quite a few of us out on the street.
"They let us back in just after five o'clock this morning."