South Western Ambulance Service patient taxi costs criticised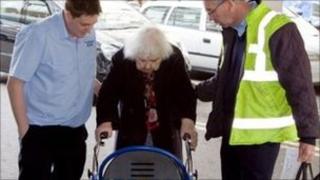 Ambulance bosses in the South West have been criticised after it emerged that almost £100,000 had been spent on taxis for non-emergency patients in 2013.
The figure for Cornwall and the Isles of Scilly, Devon, Somerset and Dorset was up from nearly £17,000 in 2009.
The union Unison said the rise, revealed in a Freedom of Information request, was "totally unacceptable"
South Western Ambulance Service (SWASFT) said a "significant increase" in demand had led to the rise.
Non-emergency patient transport services is provided by the trust to those who are too ill or unable to travel to and from hospitals.
The trust mainly uses specially fitted minibuses with trained staff, but for those who do not need medical assistance, ambulance trust cars can be used to drive them.
When neither of these options are available, the trust can use private taxi companies.
'Crucial service'
The information request showed that hiring taxis had cost more than £95,000 so far this year.
In a statement, a SWASFT spokesman said that "like all ambulance trusts across the country, [the service] has seen a significant increase in demand for its services on an annual basis".
"This trend continues and has resulted in a much higher number of patients requiring transport.
"Taxis are only used to transport patients in a very small minority of cases where it is clinically safe and appropriate to do so."
He added that the use of taxis "would not occur in emergency or life-threatening situations".
Unison's Hope Daley said it was "totally unacceptable that ambulance trusts are using taxis and the police to pick up patients while they are cutting the number of fully trained staff and ambulances on our roads".
"When someone is so ill they need medical intervention, the least they expect is to be attended by medically trained professionals.
"Patients may miss out on vital life-saving treatment on their way to hospital."
She added that "using taxis could end up costing lives to save money which should be put to better use retaining trained ambulance staff to deliver a crucial service that members of the public not only rely on, but deserve".