Christmas domestic abuse reports on increase in North East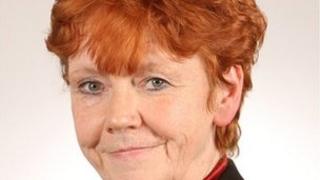 Reports of domestic abuse during the Christmas period increased by more than 500 across north-east England last year, the BBC has learned.
Durham and Northumbria Police both dealt with more cases in 2012-13 compared to 2011-12.
Northumbria Police and Crime Commissioner Vera Baird said financial pressures and more time spent with family were factors in the rise.
"There's almost no way out and stresses will get worse," she said.
"Christmas does bring more domestic violence. That's probably because there are a lot of financial pressures," she added.
"There's the pressure of trying to keep up with everyone else in terms of presents and commercialisation."
Alcohol link
Figures released under the Freedom of Information Act, covering the period from 15 December to 15 January, showed Northumbria Police dealt with 650 more cases last year (up from 1,504) while the Durham force saw an increase of more than 80 (up from 958).
Reports of domestic abuse in Durham have increased for the last two years with the force highlighting "increased public confidence" that victims would be believed and "perpetrators dealt with".
Ms Baird launched a regional domestic abuse strategy alongside the PCCs for Cleveland and Durham last month.
She said at least part of the spike was down to effective awareness campaigns that encouraged victims to report abuse.
Incidents in the Cleveland Police area fell by almost 170 last Christmas but a Teesside domestic abuse service has warned how referrals have increased month-on-month this year.
Becky Rogerson, chief executive of My Sister's Place, said: "It will be interesting to see what happens this year because we're seeing our referrals increase by 20-30 per month and I put that down to families being under more financial pressure."
Ms Rogerson said up to 70% of incidents were linked to alcohol and many were not immediately reported to police.
"We do see people who have had quite a tough time and have suffered considerably trickling in after Christmas," she said.
She added that "prevention was better than cure" and urged potential perpetrators, as well as victims, to seek advice.