Danny Alexander: A14 upgrade 'will not be delayed'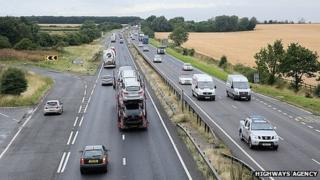 An upgrade to Cambridgeshire's A14 will not be delayed despite a U-turn over plans to make drivers pay for part of it, the Chief Secretary to the Treasury said.
Danny Alexander confirmed earlier that plans for a £1.5bn upgrade will instead be funded from general taxation.
The government said in June it could not afford improvements without tolls.
But Mr Alexander said changes had been made following a "very strong response to our consultation".
As part of the upgrade, a new extension will be built between Cambridge and Brampton and the A1 will be widened up to Alconbury. Work is due to begin in 2016.
The Highways Agency said charges could have been between £1 and £1.50 for cars using the 12-mile (19km) stretch and about double the sum for lorries.
'Crucial link'
But campaigners, such as the Road Haulage Association, said the toll would have been a "tax on East Anglia" and increase business costs.
Mr Alexander said: "We had a very strong response to our consultation on that subject and the things that we were concerned about were making sure that we could still deliver the project on the timescale set out, given its economic importance, and we can even without the tolls.
"The A14 is a crucial link to the ports and improving it will lead to a 22% increase on local jobs."
Cambridge's Liberal Democrat MP Julian Huppert told BBC Look East the government had not found more money to carry out the improvements, but there was now less financial "risk" than when the project was first outlined with a toll.
He added he was "really pleased" with the outcome, saying there would have been a "huge risk" with drivers going through villages to avoid the toll.
Labour, however, has accused the government of an "incompetent approach" over the toll, saying plans had been delayed by three years and costs gone up by £200m.