Nelson Mandela's portrait artist Harold Riley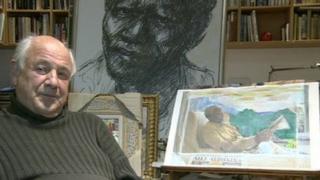 Nelson Mandela's image has been painted countless times, but during his lifetime he only sat for one portrait artist.
Harold Riley from Salford has painted several iconic figures in history, including president John F Kennedy and Pope John Paul II.
Over an 18-month period, Mr Riley had six lengthy sittings with the former South African president in Johannesburg and Cape Town.
Speaking to BBC Five Live after Mr Mandela's death, the 79-year-old artist said the opportunity to paint his portrait was "a great privilege".
"During the time, I felt the charisma," he said.
"Charisma is something you can't paint, you can only feel it. The other thing that came out mostly was his astonishing humility".
Love of children
The unique chance arose as the painting was raising money to help South African children.
Mr Riley said: "He knew that the picture I was going to paint was going to raise money for children in the townships, which it subsequently did.
"He had a great love of children. He always said, 'if you really want to know anything about your society, look at the way it treats its children.' That's always something that moved me, I thought it was very significant."
The painting, which was unveiled in 2005, raised more than $1m for charity at an auction held at the Rockefeller Centre in New York.
During the first sitting, Mr Riley said Mr Mandela initially did not know how to pose for the picture.
"When I went in to see him, he was reading the newspaper in a comfortable chair in his lounge and he said, 'what do you want me to do?'
"I said, 'just do what you're doing. Read the newspaper, Mr Mandela, and I'm going to draw.'"
Mr Riley said: "From that, I made a whole series of drawings, and from those drawings I put together the picture".
The painter said many artists have an idea of what the drawing is going to look like before they start, but that was not how he worked.
"It's like a big dog - you don't know where it's going to take you when you go out for a walk," he said.
Clog-maker
Mr Riley said during the six sessions, Mr Mandela became very inquisitive about a Salford clog-maker called Jim Critchley.
"I was talking to him about previous sittings I had with people who had impressed me, and I mentioned Jim because of his great humility. Jim was a great craftsman - his clogs were made beautifully, he had great pride in it.
"Mr Mandela said, 'I think the most important thing in life in many ways to great craftsmen is to believe in themselves and in what they do as being important to themselves'. He was just as willing to talk about a clog-maker as he was to talk about anybody else."
The artist said one of Mr Mandela's responses was particularly memorable.
"He would always disarm you, because he would always let you know that he was caring about you," he said.
"When I went in to draw him for a second sitting, his secretary said, 'Madiba, Mr Riley's here, do you remember Mr Riley?'
"Mr Mandela replied, 'Of course, but does he remember me, do you think?'"