Round-UK horse trekker William Reddaway covers 2,660 miles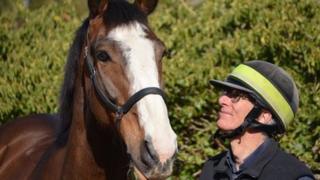 A retired manager has completed a seven-month charity challenge to travel with his horse around the UK.
William Reddaway left the Farncombe Estate, on the Worcestershire/Gloucestershire border in May and finished at the same place.
He had hoped to ride the vast majority of the 2,660-mile journey but he ended up having to walk 1,000 miles after his horse, Strider, got injured.
Mr Reddaway has raised around £50,000 so far.
"It has been terrific," said 65-year-old Mr Reddaway.
"Really hard work but here we are finishing on the day we planned. It's a real achievement."
'Not disappointed'
The father-of-one, from Cheltenham, travelled from Worcester through Coventry, up to Cumbria, across to Berwick-upon-Tweed, down to North Foreland in Kent and over to Lands End, before finishing his trip, which included visiting 30 cathedrals en-route.
He ended up walking 1,000-miles of the trek when Strider developed saddle sores in Burnley back in June. But he was able to keep to his schedule by scrapping a rest period he had factored in.
"The challenge we were doing did change a little bit - I had to get a new pair or walking boots," said Mr Reddaway, who used to work in education and training.
The initial fundraising aim was to raise £250,000 for the Family Holiday Association, which helps provide short breaks for families, and the Wormwood Scrubs Pony Centre.
"That was the hope but I don't think we will get there," he said.
"I'm not disappointed. there is a lot of money to come in.
"If I can achieve £100,000 I'll be pleased."