Dorset, Somerset, Chiltern and Thames Valley air ambulances suspended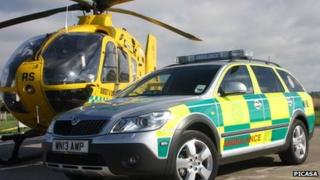 Two air ambulance helicopters in the south and west of England have been suspended from flying.
Both organisations said "investigations had found a technical fault" on the EC 135 aircraft, the same model which recently crashed in Glasgow.
Dorset and Somerset and Thames Valley and Chiltern said they were working with Bond Air Services "to resolve it as quickly as possible".
Neighbouring air ambulances and police aircraft were ready to help if needed.
A Dorset and Somerset Air Ambulance spokesman said: "We are unaware at this stage of the timescales involved but are reassured that Bond Air Services are working with Eurocopter to identify the resources required to rectify the defect.
"Our crew will be on hand to attend, and assist if the need arises, via our rapid response vehicle which is located at our airbase on the Dorset and Somerset border."
Chief executive of Dorset and Somerset Air Ambulance Bill Sivewright said: "It's a fault with an indicator system for the fuel system, so it's giving a spurious reading on fuel.
"It's the fault that made Bond Air Services inspect all the aircraft. A number were found with faults, ours being one of them.
"We're waiting to find out how long it'll take to fix. It could be as early as the next few hours, or the next few days."
Thames Valley and Chiltern Air Ambulance service has been suspended for the same technical fault.
A spokesman said it was replacing the affected components and were "hopeful" to resume a normal service on Sunday.
It said neighbouring service Hampshire and Isle of Wight Air Ambulance had "resumed normal flight operations and would provide mutual support in Berkshire, Oxfordshire and Buckinghamshire until their service was restored".