North East Ambulance Service crew attacks 'baffling'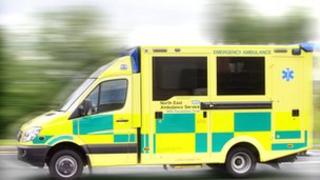 Forty eight ambulance crew have been attacked in the north east of England while treating sick or injured patients over the past year, figures show.
The North East Ambulance Service said that although the figure was nine lower than in 2012, and down by 39 from 2011, it was no cause for celebration.
It described it as "baffling" that some people felt the need to become aggressive with ambulance crew.
Another 119 staff were either threatened or verbally abused.
'Appropriate sanctions'
Incidents ranged from paramedics being kicked or punched in the face, to being spat on.
David Edwards from the service said there was a "zero-tolerance approach" to anyone who behaved in such a way towards its staff.
He said: "Historically, verbal abuse or being physically attacked was considered by some to be one of the risks of the job. It shouldn't be.
"I wish to remind some members of the public that our crews' sole objective is to help people who need medical attention.
"For those that choose to ignore this, rest assured the victim and the ambulance service will seek appropriate sanctions."