Cornwall, Devon and Dorset police to work closer 'across all areas'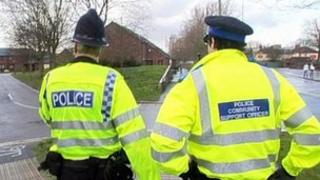 Police in Devon & Cornwall and Dorset are to assess how they can collaborate more effectively in "all policing areas", constabulary chiefs say.
A project team was to explore how work between the two forces could be improved, they said.
The forces said any savings made would be used to protect neighbourhood and front line policing.
The review, to begin in the new year, was expected to take about six months, they added.
'Unsettling' announcement
Devon & Cornwall Chief Constable Shaun Sawyer said he understood some officers and staff "may feel unsettled by this announcement".
But he added he "strongly felt" it was the "right thing for us to explore".
He said: "We all have a duty to provide the very best service we can to our communities. The two forces share similar geography, history and values; with a mix of urban, rural and coastal communities.
"I believe that by working closely with our colleagues in Dorset, we have the opportunity to preserve the local policing that both our communities enjoy and demand."
Dorset Chief Constable Debbie Simpson said: "Both forces are strong performers and have broadly similar policing styles. There is also considerable trust between the two organisations."
The Devon & Cornwall force currently has about 3,000 full-time officers. Dorset has about 1,300.
Force budgets have been hit by reductions in government funding.
Devon & Cornwall Police plans to cut £51m from its £285m budget by 2015. The Dorset force is trying to achieve budget savings of £10m by the same time.
Devon & Cornwall police commissioner Tony Hogg said there was a "financial imperative to provide a continued policing service despite reducing funding, which means that we have to look at new ways to deliver our services".
The forces are already merging some working practices.
In November, it was announced that Devon & Cornwall, Dorset, as well as Avon and Somerset, Gloucestershire and Wiltshire police were all to collaborate on laboratory work, such as fingerprinting, making savings of £1.9m.
However, the move would also "inevitably involve a reduction in overall headcount", chiefs said.