Jayden Parkinson: Post-mortem tests on body 'inconclusive'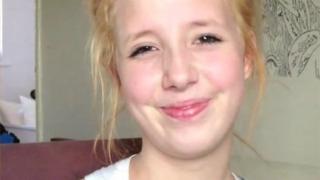 Police have failed to confirm whether a body found in a church cemetery is that of missing teenager Jayden Parkinson.
Post-mortem tests on the body, found in a newly-disturbed grave on Wednesday, failed to find the cause of death.
The body, believed by police to be that of Jayden, 17, who was last seen on 3 December, was discovered at All Saints' Church in Didcot, Oxfordshire.
A Thames Valley Police spokesman said a Home Office pathologist found the cause of death was "inconclusive".
Police said the body, which has not been formally identified, was removed from the cemetery late on Wednesday night.
'Very unsettling'
Jayden was last seen leaving Didcot railway station at about 16:30 GMT on 3 December. Her disappearance prompted an extensive search.
Her ex-boyfriend Ben Blakeley, 22, from Reading, appeared in court earlier this week charged with murder.
On Tuesday police received "significant and highly relevant information" that led their search efforts to a specific grave in the churchyard.
The Reverend Karen Beck, of All Saints' Church, said: "I don't think any of us could quite believe that somebody would want to - or be able to - bury a body in our churchyard.
"It just felt very, very wrong, very unsettling and I'm sure that people who have got relatives buried in there felt the same way."
Police said there had been suggestions Jayden may have been pregnant but they have so far been unable to confirm this.
A 17-year-old boy from Didcot, who has been charged with perverting the course of justice, has also appeared in court and is due back on 17 March.
He is accused of assisting in the disposal of Jayden's body and other evidence.
More than 100 officers and detectives have spent much of the past week carrying out intensive forensic searches at several sites in and around Didcot and the nearby village of Upton in a bid to find Jayden.