Norfolk flood sluices repaired after survey reveals damage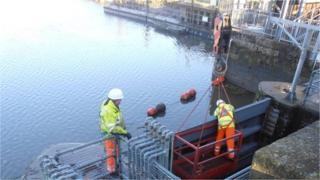 Emergency repairs have been carried out to a river sluice in Norfolk after damage was discovered during inspections of key flood defences.
A survey was carried out after the biggest tidal surge for 60 years hit the east coast on 5 December.
The Environment Agency has installed dam boards at the Denver Sluice to protect damaged gates.
The gates are on the Ouse and South Level drainage system that protects Ely, Cambridge and surrounding areas.
Julie Foley, from the Environment Agency, said there was no immediate danger of flooding "but the damage does compromise our ability to react quickly and protect people and property".
"Therefore the best course of action is to install a temporary fix to minimise risk," she said.
"We are continuing to work with our partners to recover from the tidal surge.
"Once we have a clear understanding of what other repairs are needed we will prioritise the work, focusing on the defences which protect the most people and property ahead of February's spring tides.