Fire closes Chessington World of Adventures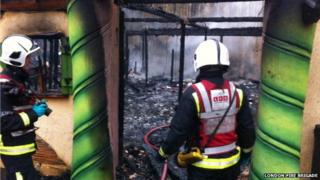 Chessington World of Adventures theme park in Surrey has been forced to close after a fire broke out in a cafe on the site.
London Fire Brigade said the alert was raised at the attraction just after 08:30 GMT.
In a statement, the theme park said the fire started before the venue opened and no-one was injured.
The fire service said the blaze was near the zoo and Santa's grotto, and two reindeer were moved to safety.
'Smoke billowing'
The fire at the Creaky Cafe was brought under control by about 11:20 GMT.
The fire brigade said the single-storey building was destroyed by fire. An attraction next door was also affected, along with a parade of shops and a plant room.
One customer, Paul Sharpe, 41, from Maidstone in Kent, who arrived at Chessington on Friday night with his wife, Paula, and his two sons, Jack, nine, and Ellis, six, said his family were "devastated" to miss a day at the park.
He said: "We came out to the car and just heard noise. We saw smoke billowing and lot of people from Chessington running towards it.
"We saw lots of flames and as I was out here I heard one of the staff say it was in the grotto.
"We went up to our room and checked the website, and Chessington said a fire was started in one of the cafes.
"We went up to the glass roof at the top of the hotel and there was a hell of a lot of flames."
Mrs Sharpe said: "We're devastated. We're going to head home to make gingerbread houses."
Lisa Wood, from Derby, said: "I looked out of the window and it looked really grey.
"I thought it was the rain, so we came up to the window and had a look and realised it was thick black smoke.
"We stood there wondering what was happening, and about five minutes later this huge flame shot out of the top of the building, I mean really tall, very orange, and the smoke just was everywhere."
'No animals hurt'
Esther Kelly, from London, said: "We are disappointed. We've waited all year to come."
She said the trip had been booked as a Christmas treat and her children were "quite gutted".
A statement posted on the park's website said: "Due to unforeseen circumstances, Chessington will be closed today."
"If you had tickets booked for today they will be valid for another day in the future."
The park said emergency procedures were immediately put into operation when the blaze broke out, with fire engines on the scene within minutes.
"The theme park and zoo were closed at the time of this incident and therefore no guests were involved," it added.
"All staff areas were immediately evacuated and all staff and animals are safe and well."
The park said fire crews remained on site, and managers and the fire service would be investigating the blaze.
'A lot of flames'
London Fire Brigade said about 40 firefighters attended the scene, where the fire covered an area of 2,500 square metres (27,000 sq ft).
Station manager Craig Carter said: "There were a lot of flames and the area was quite smoky when we arrived.
"None of the animals were evacuated, bar two reindeer, interestingly enough. So I can confirm that Santa's reindeer are safe and well and ready to be collected on Christmas Eve."
Mr Carter said he was unable to comment on earlier reports that the fire may have started in the grotto.
The Metropolitan Police said officers set up cordons and road closures in the area to support the fire crews.
Leatherhead Road was closed but has since reopened, police said.
Information on the theme park's ticket line said Chessington was now mainly closed but was open for "festive zoo days", which ran from December to 5 January.