Somerset runners plan 'final flourish' for 365th run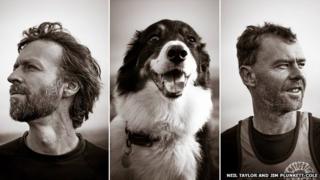 Two endurance athletes who have run at least 10km (six miles) every day for the past year plan to "finish with a flourish" in Bristol on New Year's Eve.
Jim Plunkett-Cole and Neil Taylor will mark the 365th day with a circular 74km (46-mile) run around the city.
The pair, from Frome, Somerset, began the challenge on 1 January, along with eight-year-old dog Alfie.
Mr Plunkett-Cole said his runs had included around Glastonbury Festival while the Rolling Stones were playing.
He also ran around Stonehenge during the summer solstice, London's tourist sights and completed a tour of all of the Gromit sculptures in Bristol.
He said he did this to stop getting bored.
"Time-wise it's not a huge commitment, but it's the consistency that's hard," he said.
"Someone said this could be the most amazing year of your life, but if it wasn't for one thing [his mother dying from myeloma - a bone marrow cancer], it would have been.
"For 16 weeks she was in hospital. Running was the best way of dealing with it. It got me out there and helped me deal with it."
Throughout the year the trio have run some 2,800 miles, so far raising more than £6,500 for the Cystic Fibrosis Trust, Dorset and Somerset Air Ambulance and Positive Action against Cancer charities.
Due to differing work commitments, the two men have only joined each other on the same route around 20 times but the final challenge will include all three.
On New Year's Eve they will be joined by other runners in an attempt to complete the Green Man Challenge route in Bristol.
The 46-mile course follows the Community Forest Path around the city and is used every March for an organised ultramarathon.
Author Ira Rainey, who wrote a book about completing the challenge, said it would it would be "wet, muddy and hard-going" for the group.
When he ran it, he said heavy rainfall made the going very tough as a lot of the route follows rivers and some of the paths were completely underwater.
However he paid tribute to the year-long efforts of the trio.
He said: "Running every day is supremely tough, whatever distance. It takes an incredible amount of mental determination and physical fitness."