West Midlands Ambulance Service has 'four new year 999 calls a minute'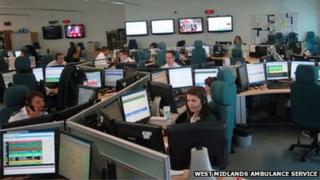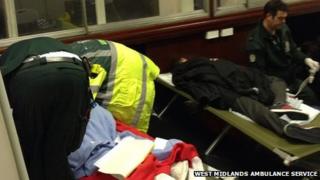 Paramedics in the West Midlands dealt with an average of four 999 calls a minute in the first five hours of 2014, the ambulance service has said.
It responded to 1,875 emergency calls between 20:00 GMT on Tuesday and 05:00 on Wednesday, a fall of 3% on the same period last year.
It said a large number of the incidents included fights, assaults, falls and people who had drunk too much alcohol.
More than 200 ambulances and 100 paramedics were on duty, it said.
West Midlands Ambulance Service said the calls included treating a woman who had hypothermia after being rescued from the River Wye in Mordiford, Herefordshire.
'To the limit'
A man in his 20s sustained a serious head injury after being hit by car on the A500 Northbound in Tunstall, Stoke-on-Trent at about 03:45 GMT and was taken to the University Hospital North Staffordshire.
Assistant chief ambulance officer Mark Gough said the last four hours of 2013 saw 999 calls steadily increase but after midnight the service was dealing with an average of four 999 calls every minute.
He said: "1,875 emergency calls is not far off a full day's activity just in those few hours so our resources were really pushed to the limit."
More than 125 people were treated by the Temporary Minor Injuries Unit in Broad Street in Birmingham, the service said.
West Midlands Fire Service said the national firefighters' strike between 18:30 GMT on Tuesday to 00.30 on Wednesday passed without any major incidents in the area.