Yalding floods: Residents in Kent village face further misery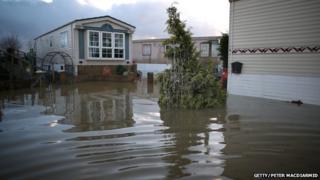 Further rainfall has brought more flooding to an area of Kent severely affected by floods over Christmas.
The Little Venice Country Park at Yalding flooded again overnight when the River Beult overflowed. About six properties have been damaged.
It was evacuated on Thursday afternoon, with residents having to rescue their possessions from caravans, when water surrounded the site.
The Environment Agency said river levels were now falling.
'Flood risk'
Jenny Donovan, from the agency, told BBC Radio Kent: "Unfortunately there was flooding again in Yalding last night from the River Beult.
"We had people from the Environment Agency working closely with professional partners, the local authorities and the emergency services.
"It's going to be important for the next 24 to 48 hours that people remain vigilant. If we get the high ends of the rain that is forecast we will see an increase in flood risk across the whole of the county."
Maidstone Borough Council had delivered sandbags to the residents of the village after a flood warning for the River Beult.
In a statement on its website, the agency said river levels peaked at about 07:00 GMT and would "fall slowly through the rest of Friday" but the "risk of further property flooding" remained over the next few days.
Prime Minister David Cameron was confronted by a flood victim as he visited Yalding last week.
Resident Ericka Olivares criticised the response of the power firms and local authority but the leader of Kent County Council, Paul Carter, defended the way the crisis had been handled.
Following his encounter with Ms Olivares, Mr Cameron said the severity of flooding in the area made it difficult to ensure homes were protected, but "we have got to do more and we have got to do better".
Power was restored to most villagers on Saturday.
More unsettled weather was expected to hit the South East over the next 24 hours, according to the Environment Agency, with flooding likely to affect south coast areas due to a combination of strong winds, large waves and high tides.
The Port of Dover said it was operating as normal on Friday morning.