Vera Wang wedding dress and cardboard Joey Essex left in Travelodge hotels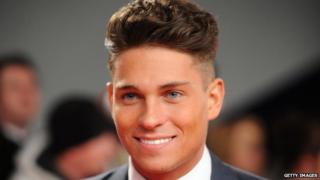 A £5,000 designer wedding dress, a snowy owl and a cardboard cut-out of Joey Essex were some of the bizarre possessions left in hotels in 2013.
A list compiled by Travelodge revealed the unusual items some of the chain's guests left behind.
The unworn Vera Wang dress was left in Torquay and has not been claimed.
Other items include a 6ft (1.8m) wooden cross left in Tewkesbury, a premarital agreement in Brighton and a rattlesnake skin in Fort William in Scotland.
The life-size cutout of Joey Essex, who appeared in The Only Way is Essex and recently on I'm A Celebrity...Get Me Out Of Here, was left in Chelmsford.
Shakila Ahmed, from Travelodge, said the pace of life means valuable possessions are "easily forgotten".
She said: "Each year our lost and found inventory report provides plenty of revelations.
"From deeds to a £2 million house, a set of 24 carat gold Indian Gods and a Vertu mobile phone right through to a pet tarantula and even exclusive yoghurt flavours which have not even been launched to the public.
"Our 2013 left behind register also reveals how much smart technology has become a part of our everyday lives, as we have had nearly 10,000 tablets and smartphones left behind in our hotels in the last 12 months.
"This is a significant increase from previous years."
According to the hotel firm, more than 22,000 books were left behind, with the most popular being from the Fifty Shades of Grey series.