RSPB storm damage 'worst ever' at Snettisham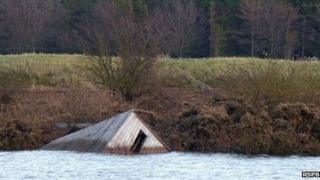 A charity says damage at one of its nature reserves after December's tidal surge was the "worst in its history".
The gravel pit breeding sites at RSPB Snettisham in Norfolk have been turned into "one massive lake" and many bird hides have been broken or swept away.
Havergate Island and Dingle Marshes in Suffolk were also badly hit, with fears that further high tides could affect the "long-term future" of the sites.
So far the RSPB has received £50,000 in donations towards the repairs.
December's surge, which the Met Office said was the biggest for 60 years, caused widespread damage to homes and wildlife sites along the east coast of England.
A month on, the RSPB has now managed to assess much of the damage at its reserves after waiting for water to drain away.
'Hard work ahead'
Spokeswoman Rachael Murray said the Snettisham reserve was now "slowly recovering" and some birds had returned, but many habitats were still under water and it is expected that "a lot of work will need to be done to return the reserve to a rich home for wildlife".
Staff have also now been able to access Havergate Island, next to Orford Ness, but have discovered that the sea walls are so badly damaged that another high tide could put the "long-term future of the saline lagoons at risk".
They said the surge also had a "significant impact" on the island's hares, but some still remained.
Pernille Egeberg, RSPB visitor officer, said: "The damage caused to the RSPB Snettisham nature reserve is the worst in its history and it took us by surprise.
"We can only hope that the wildlife will continue to return to the reserve."
Rob Lucking, RSPB Area Manager, said: "There is hard work ahead, and whilst some of our reserves may never be quite the same, with the help of the storm appeal, we are optimistic that we can ensure our coastal reserves in the East continue to be fantastic places for wildlife and people."
The charity hopes to raise £300,000 in total for the repairs.