Cotswold Airport stunt plane crash investigation 'biased'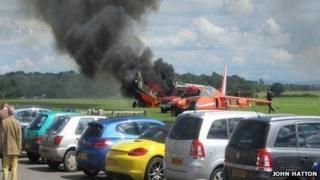 The stunt pilot of a plane which safety inspectors found had an "unusual fuel load" when it crashed has said a report into how it came down is "biased".
Belgian pilot Tony De Bruyn, 48, said the Air Accidents Investigation Branch (AAIB) report into the crash in July 2012 contains "errors" and "omissions".
Mr De Bruyn was seriously injured when his OV-10 Bronco plane came down during a practice flight at Cotswold Airport.
The AAIB said it stood by the report's "objectivity and thoroughness".
A spokesman for the organisation added that investigators follow an evidence-based process.
Mr De Bruyn, the display pilot of the four-year-old OV-10B Bronco Demo Team, spent two months in Frenchay Hospital's burns unit after the crash.
He said his personal contribution and insight as the survivor had been given to the AAIB but was "put aside" in the final report.
'Unusual configuration'
He said the report contains "errors, omissions and is in generally biased on common beliefs and 'pet' subjects which prevail within the AAIB and do not have anything to do with this accident".
"Therefore it is not justified to come up with the safety recommendations they have put forward in relation to this accident."
The AAIB's conclusions included information about the Bronco crashing mid-barrel roll, adding a full fuel tank and slow entry speed may have been a cause.
The report highlighted the full tank as an "unusual configuration for performing a display" and said the barrel roll entry speed was "lower than recommended".
It included four safety recommendations, two relating to the way the Civil Aviation Authority grants authorisation for flying displays and special events and two suggesting improvements in communication between those who maintain and those who pilot aircraft.
Mr De Bruyn said he had always held the AAIB's reports in high esteem but he would now review that position.
The Belgian-based demo team had been in the UK as part of the Royal International Air Tattoo at nearby RAF Fairford.