Appledore coast path collapses after storms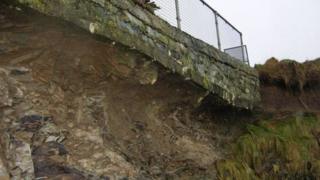 A section of the South West Coast Path in Devon has collapsed in the wake of the new year storms.
The path near the lifeboat station at Appledore in Devon developed cracks in concrete steps and a walkway was under cut by waves.
A landslip at Mullion Cove in Cornwall has also left the coast path a few yards from the cliff edge.
But the South West Coast Path team said that overall, there was "remarkably little" damage from the storms.
"If there were big problems we would have heard about them by now," said manager Mark Owen.
"Our advice is to take extra care and be more alert, things may have moved and the cliff under cut. Stay away from cliff edges."
The 630 mile (1,013km) path stretches from Minehead in Somerset to Poole in Dorset.
Storms have already caused a number of collapses around the coast, including at Porthcothan Bay in Cornwall where a landmark rock arch fell into the sea.
Two people were swept into the sea and died in Devon and Cornwall, and a teenager is feared dead.