USAF helicopter crash: Victims' bodies flown to US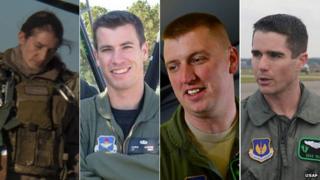 The bodies of four US Air Force crew killed when their helicopter crashed in Norfolk are being flown to the United States.
Capt Christopher Stover, Capt Sean Ruane, Technical Sgt Dale Mathews and Staff Sgt Afton Ponce died while on a training mission near Cley on Tuesday.
They were in an HH-60G Pave Hawk, which was part of 48th Fighter Wing at RAF Lakenheath in Suffolk.
A memorial service will be held at the base on Friday, it has been announced.
An aircraft carrying the bodies left RAF Mildenhall to return them to the US.
No mayday message
The helicopter wreckage, including a "significant" number of bullets from the crashed aircraft, was scattered over an area the size of a football pitch at Cley nature reserve.
Col Kyle Robinson, Commander of 48th Fighter Wing, has said that no warning or Mayday message was received from the helicopter.
An investigation into the cause of the crash is expected to take several weeks to reach its conclusion.
A police cordon around the scene and a road closure on the A149 from Salthouse to Old Woman's Lane is expected to remain in place until 20 January.
A second helicopter that had remained at the investigation site since landing there to provide assistance on the night of the accident, has returned to RAF Lakenheath.