British pig breeding companies to export semen to China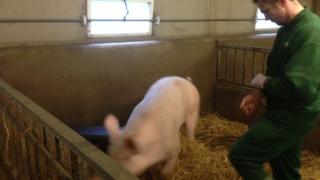 Three British pig breeding companies are preparing to start exporting pig semen to China after a deal was struck between the two countries last month.
Half the world's pigs are in China and the deal is worth up to £45m a year to British pig producers.
The growing middle class in China are demanding better quality food and British pedigree pig producers are considered among the best in the world.
Last year live pig exports to China were allowed, mostly of boars for breeding, but the transport costs have proved prohibitive.
The new deal, which was signed by Prime Minister David Cameron on a trip to China in December, will allow live and frozen semen to be exported which is then used to impregnate sows that are bred there.
Cloning fears
Artificial insemination accounts for about 90% of pig pregnancies and it is hoped the British stocks being used will drive up the quality of pork in China.
The semen taken from British boars is mixed with a solution that extends the life of the sperm which would otherwise die within a few hours.
The "extender" is made up of distilled water, glucose and antibiotics and allows the sperm to last for up to nine days - more than enough time to be sent to Beijing and then on to the breeding farms.
The dilution also means the sample provided by one boar can impregnate dozens of sows.
Pig breeders in Britain are playing down suggestions that Chinese companies will clone their pigs and then cancel contracts with British firms in a few years.
They say that if that were to happen the inbreeding would lead to poorer stock in the future and the Chinese realise the importance of maintaining quality for years to come.
'Prosperous relationship'
The firms involved are ACMC and JSR Genetics, both based in Driffield, East Yorkshire, and Rattlerow Farms, based in Eye in Suffolk. Hermitage Genetics of Kilkenny in Ireland is also included in the deal.
ACMC managing director Matthew Curtis told the BBC: "The Chinese deal means that rather than sending live pigs out to China, which is very difficult, we are able to send semen which is much easier and more cost-effective.
"It's a massive market and full of absolutely massive potential which we are only just beginning to tap into.
"We're hoping this will be the start of a long and prosperous relationship."
His company already exports live pigs to the Far East, Mexico and Georgia.
One of its most in-demand pigs, the Meidam, is the world's most recently registered pure breed pig.
It was bred to have 16 teats, rather than the usual 12, meaning more piglets survive and grow to adulthood. It was initially cross-bred with Meishan pigs which had been imported from China.
Now the semen from the offspring of those animals will be going "back home" to China when exports start in the next few weeks.