William Roache trial: 'Fellow actor warned girl about star'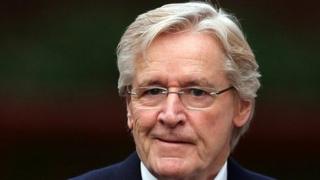 A woman who alleges she was sexually assaulted by William Roache has told a court she was warned about him by another Coronation Street actor.
Preston Crown Court heard Peter Adamson, who played Len Fairclough in the soap, warned her that Mr Roache would "lead you astray".
The woman alleges that Mr Roache, 81, groped her when she was about 14 years old.
He denies two rapes and five indecent assaults between 1965 and 1971.
The woman told the court last week that Mr Roache assaulted her after he arranged passes for her to visit Granada Studios in Manchester with her sister.
During cross-examination by the actor's lawyer, Louise Blackwell QC, she said Mr Adamson, who she referred to as Len Fairclough, looked directly at Mr Roache and then told her: "You want to keep your eye on him, he will lead you astray."
'Like an octopus'
The woman said Mr Roache, who plays Ken Barlow, groped her in a room after she was led past the Rovers Return pub on the set.
Last week the court heard a police interview in which the woman said Mr Roache "was like an octopus - hands everywhere".
Challenged about her version of events by Miss Blackwell, the woman said: "It happened, no matter what you are saying or what your job is, it happened."
Asked if she was telling the truth, she replied: "I'm telling the truth. Why the hell would I put myself through all of this?"
She said she had felt the incident was her fault "for being there in the first place".
The woman's sister alleges she was also abused by Mr Roache, on a separate occasion.
Asked by Mr Roache's barrister about press interest in her story and reporters visiting her house, the woman said her sister had "two visits from the Mirror" and had been offered £25,000.
She said she was visited once by a reporter from The Sun, but the only money mentioned was an undisclosed donation to a charity.
She told the barrister: "I know what's going through your mind and it's not going to happen, because I did not want money.
"If I wanted money I could've sold my story but I have not sold my story. I have spoken to nobody except those who should know."
The trial continues.