Southampton crash cyclist 'fatally injured by wing mirror'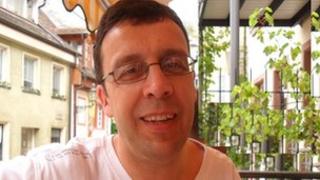 A youth worker driving a minibus caused a cyclist's death after his wing mirror knocked him off his bike on a busy commuter road, a court has heard.
David Irving, 48, from Wimborne, Dorset, was cycling in Southampton when the collision happened on 17 December 2012. He died at the scene.
Steven Petterson, 38, of Waterhouse Lane, told the city's crown court he thought he "had hit a bus signpost."
He denies causing Mr Irving's death by driving without due care and attention.
Helmet 'smashed'
Rufus Taylor, prosecuting, said Mr Irving, an IT consultant, was wearing an orange high-visibility jacket, an anklet with LED lights and lights on his bicycle at the time of the crash.
It was as Mr Irving was cycling along the three-lane Mountbatten Way that he was knocked from his bike causing him extensive injuries.
His cycle helmet was "smashed to bits", the prosecutor added.
A post-mortem examination showed Mr Irving suffered a head injury which was consistent with being hit by a wing mirror, Mr Taylor said.
Mr Taylor explained Mr Petterson stopped the Ford Transit minibus after he heard a bang, but believed he had hit a bus signpost.
It was only when he found out that there had been a serious accident he called the police and told them he believed he might have been involved, he added.
'Driving carefully'
At the time of his arrest, Mr Petterson told police he was "driving slowly" because there was a lot of traffic.
"There was a bang and my wing mirror slammed against the van. I didn't see what caused the impact," he told the court.
"I checked the remaining mirror and couldn't see anything in the carriageway behind me."
He added visibility was reduced that morning by the low sun but he believed he was "driving carefully".
The trial continues.