Farmers urged to prepare for potential badger cull roll-out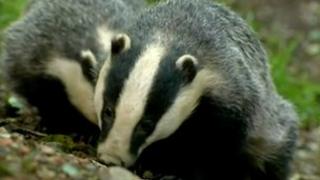 Farmers and landowners across the UK are being urged to prepare applications for badger control licences prior to any nationwide cull being confirmed.
The government is considering whether it will be rolled out following pilot culls in Gloucestershire and Somerset.
An independent panel of experts is due to report on the safety and effectiveness of the two pilots.
But Natural England says people should get prepared ahead of the report, as it can only issue 10 licences per year.
It said if the roll-out is confirmed, the first stage of the licensing process would require potential new application areas to submit an Expression of Interest (EOI) form.
Not met targets
Submissions for 2014 would then be screened by the body to determine which candidates should be invited to apply for a licence to control badgers to prevent the spread of bovine TB
Natural England's principal specialist for species regulation, Matt Hayden, said: "Unless they do this it will make it very difficult to get a licence this year in the event the government does confirm roll-out."
Government ministers and the National Farmers' Union believe culling badgers will curb TB in cattle. Opponents say shooting the animals is not effective.
The pilot culls in Somerset and Gloucestershire cost more than £7m - equivalent to more than £4,000 per badger killed, according to animal charity, Care for the Wild.
The culls aimed to kill 70% of the badger population to test how effective, humane and safe a cull could be.
The cull in Gloucestershire was ended early as it had not met its targets and the Somerset pilot failed to meet its target even after a three-week extension.
The panel, which includes a number of wildlife experts, is due to report back on the results of the pilot culls in February.