East of England Ambulance chairman Geoff Harris resigns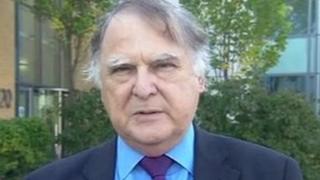 The interim chairman of the East of England Ambulance Trust has resigned from his post four months early.
Dr Geoff Harris took over the role last May for a period of 12 months, but is standing down with immediate effect.
The trust declined to say why Dr Harris had left but chief executive Anthony Marsh said he had provided "strong leadership and expertise".
The Care Quality Commission's (CQC) latest inspection report on the trust is due to be published on Wednesday.
Dr Harris took over as interim chairman of the trust after Maria Ball stood down last March.
'Great sadness'
Her resignation came as the trust was ordered to improve by the CQC after failing to meet its care and welfare target.
Mr Marsh said: "It is with great sadness that I learnt of Geoff Harris' decision to stand down from his post as interim chairman and I wish him all the best for the future.
"Geoff joined the trust at the most challenging period of its history and has worked incredibly hard to both stabilise and reinvigorate the board, providing strong leadership and expertise to progress improvements."
He said the trust would be working with the NHS Trust Development Authority to start the process of appointing a new chairman or chairwoman immediately.
Dr Harris said: "I was asked to rebuild the trust board and leadership when I took on this interim role in May and I feel that, having recruited a new non-executive team and one of the most experienced ambulance chief executives in the country, that it is the right time to bring in a new chair.
"Over the last year the trust has made many improvements. There is lots more to be done but I am confident that under Anthony's stewardship the trust will continue to move forwards."