Sandy the German Shepherd's 'wonky' dog charitable rescue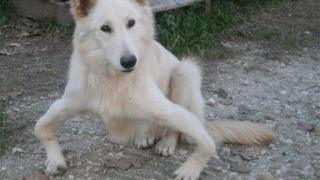 An abandoned dog with deformed "wonky" legs has been brought to the UK from Greece and given the chance of a new life after a charity heard about him.
Pat Clark, of Essex-based Mutts in Distress, raised funds to bring Sandy to England and a Cambridge vet offered to operate on his legs free of charge.
Surgeon Chaim Pilosof inserted specially-made plates into the dog's right leg to straighten it.
A second operation is planned and he said Sandy's future "looks rosy".
Mr Pilosof, of Companion Care Vets, and Mrs Clark heard about Sandy through contacts at an animal sanctuary in Corfu, where the 10-month-old German Shepherd had been brought.
"I saw a picture of Sandy and knew we had to bring him here," Mrs Clark said.
"He was so bow-legged and wonky he was almost walking on his chest."
She said the type of surgery needed to rectify the bone deformity was "not available" in Corfu.
"He'd have lived the rest of his life like that," she said.
Mr Pilosof and his team successfully operated on one of the dog's legs, inserting metal rods that had to be specifically made because Sandy's bones were so deformed.
A second operation is planned for Thursday.
"The deformity was probably caused by poor nutrition, perhaps while he was in the womb," Mr Pilosof said.
"Sandy is doing well now though, and putting more weight on the leg. In terms of walking he should be back to normal, and it will be almost unnoticeable."
An eye specialist has also offered to donate her services as the dog is very short-sighted.
"We are not sure if anything can be done about that, so Sandy could end up a dog who walks quite normally, but can't see too well," Mr Pilosof said.
Mrs Clark said Sandy's rescue and recovery was "a real team effort".
"Sandy faces a further three months of physiotherapy and recovery and then he's going to come and stay here with me," she said.