Ministers blamed as Cornwall and Lancashire turbines ditched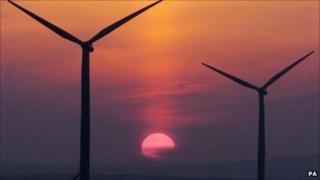 Developers have dropped plans for wind farms in Cornwall and Lancashire, accusing the government of "constantly shifting its position" on renewable energy.
Community Wind Power wanted to erect 16 turbines at Davidstow Woods in Cornwall and 13 at Claughton Moor, Lancashire.
The firm said the turbines would have put £100m into local economies.
The government said it had a "strong commitment to supporting investment in onshore wind".
Community Wind Power said four staff would lose jobs, two at Camelford in Cornwall and two in Cheshire.
The firm, which had invested £2m in the schemes, has also pulled out of four other schemes in Cornwall with a total of up to 20 turbines.
'Millions invested'
Rod Wood, managing director of Community Windpower, said the move was "really disappointing".
"The government has been constantly shifting its position on UK renewables," he said.
"And it's now planning to rush through an auction process which is likely to crash the price at best, or in the worst case, stop generators selling green energy altogether.
"We have spoken to other generators and they all feel the same thing."
The Department of Energy and Climate Change said: "Our ambition for onshore wind hasn't changed - it is the cheapest large-scale renewable technology, with a vital role to play in delivering secure, low-carbon energy, and we want to see up to 13GW of onshore wind deployed by 2020.
"We are currently consulting on the detail of a new support mechanism to drive investment in all renewables, which will give onshore wind generators a guaranteed revenue for 15 years."
The Open Spaces Society said it was "delighted" the plans had been dropped.
The society had objected to both schemes because of their "adverse effect on fine landscapes and open country and people's enjoyment of them".