Galloper offshore wind farm developers invite work bids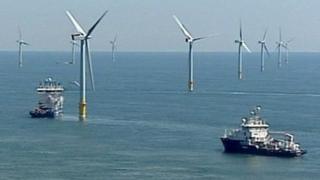 Firms in East Anglia have been invited to tender for business linked to the expansion of a giant offshore wind farm to power up to 330,000 homes.
Work is to start in 2016 on the Galloper wind farm off Suffolk's coast.
Developers Galloper Wind Farm Limited said the project could create hundreds of jobs and its base would be set up at the former fish dock in Lowestoft.
Galloper received development consent in 2013 and detailed plans are now available for firms to tender.
The new wind farm will be adjacent to the Greater Gabbard development off the Essex coast.
Project Director Bart Oberink said: "The ABP Port of Lowestoft has proved itself extremely capable as the base of the existing Greater Gabbard wind farm."
Keeping the base in Suffolk provides increased security for many nearby businesses that support existing wind farms in the North Sea, he said.
Deputy port manager Roger Arundale, said: "This contract is a great vote of confidence and a welcome consolidation of Suffolk's 'green' coast acting as a springboard for investment and job creation."
Waveney MP Peter Aldous said "This long term commitment reinforces Lowestoft's position as an emerging hub for the offshore renewables sector."