Deselection storms continue in Thirsk and Malton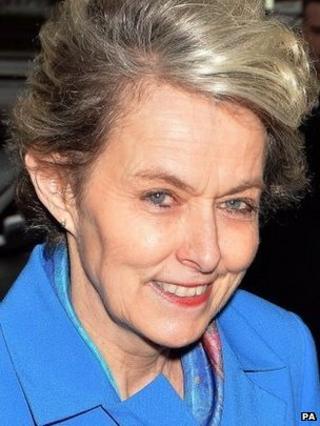 Anne McIntosh arrived at Conservative Party Central Office in London with history on her side.
Until then not a single sitting Conservative MP had lost a ballot of their own constituency members and been dumped as a candidate.
In fact it was thought to be so unlikely this time that BBC News decided not to send a live satellite unit.
The thinking was that with a mere 560 Conservative members in the Thirsk and Malton constituency eligible to vote we would have plenty of time to drive the pictures and interviews back to nearby BBC studios in time to mark her anticipated win on the lunchtime bulletins.
As the hours went by on that wind and rain-battered doorstep it became clear that Miss McIntosh had a problem.
She emerged after four hours to tell us that a "small group" would not force her out. She intended to stand again as a candidate in 2015 despite losing the ballot and officially being deselected as the Conservative candidate in her safe seat.
Ringing newsdesks
Her defiant short statement left more questions than answers but she refused to address any of them before driving off.
In my report for BBC Look North that night I mused whether she now intended to put herself up as an independent against a new Conservative candidate who will be chosen by the local party association.
That night the Press Department at Conservative Central Office was ringing newsdesks insisting that Miss McIntosh had never said she would stand as an independent and it would be wrong to say so.
You can understand why.
It would be more than just a little embarrassing for a high-profile MP and chairman of a powerful House of Commons committee to say she would stand against a candidate nominated by her own party.
It appears to leave just one option.
She could put herself up to be selected as the new candidate. As rural Thirsk and Malton returned one of the Conservatives' biggest majorities in 2010 she could be joining a very long queue of would-be MPs.
'Ungentlemanly conduct'
Miss McIntosh herself is certainly not going without a fight.
As I write this article she has given just one television interview so far, to the BBC's Daily Politics programme.
She announced she had complained about the "ungentlemanly conduct" of the local association and an investigation was now taking place at "the highest level" in the Conservative Party.
Her opponents in the Thirsk and Malton Association dismiss this as sour grapes.
Local chairman Peter Steveney told me he had already made formal complaints about "scurrilous allegations" by her supporters that her deselection was simply a result of a male dominated local party which couldn't work with women.
He says that she was not doing a good enough job for her constituency and, after failing in efforts to make the relationship work, they had to replace her as candidate at the next election.
A couple of days later fellow veteran Tory backbencher Tim Yeo was also dumped as a candidate after a vote by his local party association in South Suffolk.
In contrast, he wished his successor well and is going quietly.