Cpl Anne-Marie Ellement inquest: Rape claim soldier 'bullied with insects'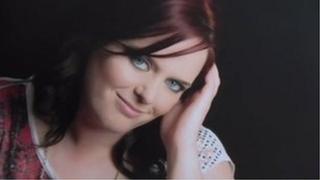 A soldier who hanged herself two years after claiming she was raped had a box of crickets released in her room in a bullying campaign, an inquest heard.
Cpl Ellement, 30, from Bournemouth, was found hanged at Bulford Barracks near Salisbury, Wiltshire, in October 2011.
Another corporal said colleagues openly discussed the rape allegation and put crickets in the Royal Military Police officer's barracks room in Germany.
Cpl Charlotte Berrill said Cpl Ellement felt she "couldn't trust anybody".
Military investigators chose not to prosecute the two soldiers Cpl Ellement accused of raping her in Germany in 2009.
Cpl Berrill, who befriended Cpl Ellement at Bulford, told the court she had reprimanded another soldier, Cpl Craig O'Grady, for discussing the rape allegation in front of others at Bulford in 2011.
She said: "I heard him saying she was a bitch and she had ruined his best friend's life by crying rape... I thought it was highly unprofessional for somebody to talk about something so sensitive to people who had nothing to do with it."
Cpl Berrill said she told Cpl Ellement about the conversation. "She was very upset about it and angry," she said.
"She was clenching her fists a few times, her eyes welled up immediately."
Cpl Berrill said she was subsequently reprimanded by the regimental sergeant major and relieved of her informal position of junior welfare officer.
She also told the hearing that Cpl Ellement was also singled out by physical training instructors who called her "fat".
Another corporal, Kareena Brooke, who gave evidence via phone link from Diego Garcia, said she was hit in the face with a bottle during a pub argument with Cpl Ellement but she denied trying to turn people against her colleague.
She said: "Me and Anne-Marie, we obviously didn't get on for a while after this, she had been asking for the guys to lie for her after that night so I wasn't happy about it."
Cpl Brooke said Cpl Ellement had been in a good mood when she celebrated her birthday a few days before her death.
When asked if she was aware of text messages sent to Cpl Ellement on the day of her death, saying her current boyfriend was ending their relationship, Cpl Brooke said: "I knew they had split, I do not know why, I cannot remember when I found out about it."
The inquest continues.