Released prisoner Peter Watton jailed for 'horrendous' rape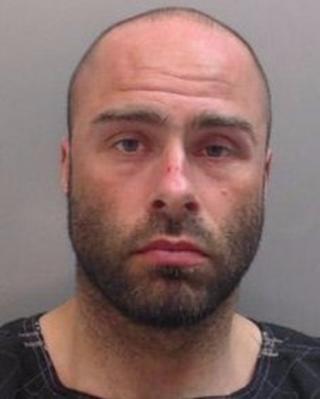 A man who subjected a woman to a "horrendous sexual attack" two days after he was released from prison for kidnap and robbery has been jailed.
Peter Watton, 37, of Lache, Chester was convicted of twelve charges in January, including rape, false imprisonment and possession of a knife.
Chester Crown Court was told Watton had attacked the woman as she was jogging with her dog in the city in June.
He was jailed for 20 years, with four more years to be served on licence.
Watton attacked the woman after being released on licence from prison halfway through a six-year sentence for kidnap and robbery.
'Clear-headedness'
The court heard he threatened the woman with a knife in a nine-hour assault and that she had thought she was going to die.
The jury was told Watton repeatedly raped her over several hours and told her he "had been watching her for two weeks", before she was able to escape.
He was caught following a six-day search by police.
Claire Lindley, chief prosecutor for the Merseyside and Cheshire Crown Prosecution Service, said he was "a dangerous man" who had subjected his victim "to a horrendous sexual attack".
She said the "courage and clear-headedness" of the woman had helped convict Watton.
"Her evidence has helped put Peter Watton in a place where he can no longer pose a threat to women."