Work to clear Wey & Arun Canal for Southland Lock opening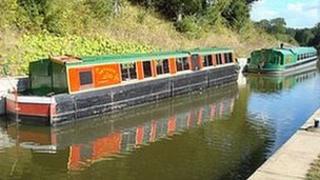 Restoration of a lock on a 19th Century canal has finished and volunteers are now working to clear the waterway in time for its official opening in June.
The Wey & Arun Canal Trust is working to restore the 23-mile (37km) canal, which runs from Surrey to West Sussex.
Spokesman Julian Morgan said work had continued on the Southland Lock since its gates were fitted in 2012, but now restoration of the lock was finished.
Volunteers hope to navigate a boat to the lock for the opening on 21 June.
Mr Morgan said: "We can't get boats to the lock yet. Work is still happening on that section of the canal, but the lock is finished.
"Now we are working on the waterway. We need to remove more than a hundred years of silt and reprofile it, to get it as close as possible to its original shape."
Restoration of the canal began in the 1970s.
The canal was built between 1813 and 1816 to link the Rivers Wey and Arun, and runs through Shalford, Bramley, Cranleigh and Dunsfold in Surrey, and Loxwood, Wisborough Green and Billingshurst in West Sussex.
It closed in 1871 because of competition from the railways.